Includes ClikStik™ Holder, Ring, and Rod
The only holder for Nomad and Maxray handheld x-ray units!
The ClikStik™ system is a fully autoclaveable, twin head holding system for use with ANY x-ray film or digital sensor bite blocks. One system can take anterior, posterior and bitewing views with a simple straight rod and one single ring. The variable rod allows the ring to be placed as close to the cheek as possible without interference for increased accuracy.
A complete series of radiographs has become a simple one ring process, saving time and money for every office.
The ClikStik™ is compatible with ALL biteblock manufacturers such as RINN™, Flow™', Schick ™, Dexis™ and others with just one instrument, one ring and one simple rod.
Item # 001-220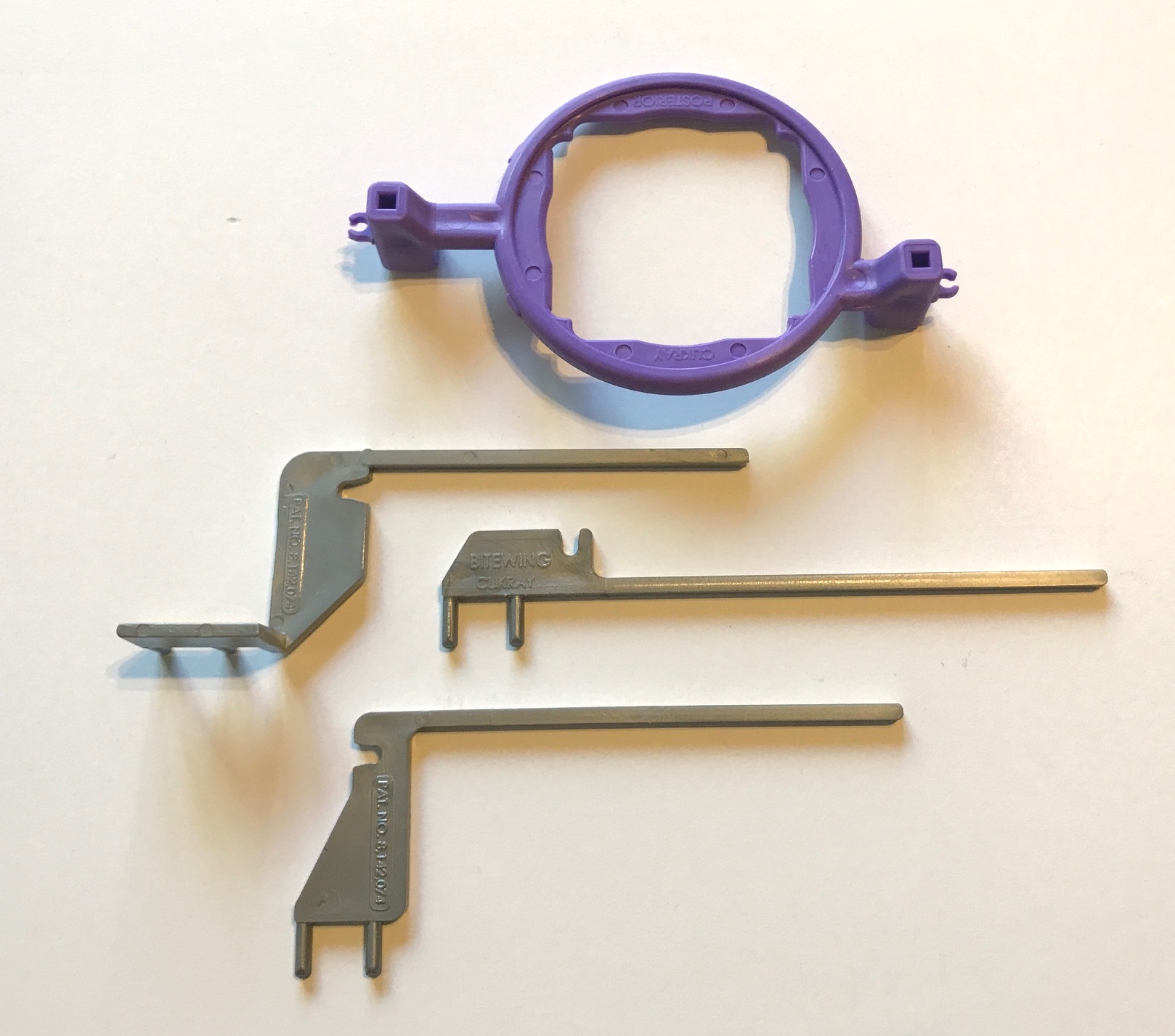 Includes ShaRing™ and set of Litening Rods™
The ShaRing™ Bonus Pack is a holding system for all digital sensors. It eliminates the need for multiple rings, rods and pins of older obsolete systems. Now you can have a system without metal pins or rods in your mouth. Save time and money with the complete starter kit.
The ShaRing™ is a single ring designed to replace the need for three separate rings used in a full mouth series. Anterior, posterior and bitewing radiographs may now be taken with just one single ring. The ring is completely autoclavable and is compatible with existing metal anterior, posterior and bitewing rods from most manufacturers. It incorporates wire clips for any digital sensor. ShaRing™ offers rectangular collimation which conforms to European and future standards.
Litening rods™ are inexpensive, durable rods that eliminate breakage issues typically seen with metal rods. Litening Rods™ do not have pins that break. Constructed of solid high heat plastic resin, these rods are completely autoclavable, reusable and both low cost and light weight. They have the added benefit of incorporating a wire clip to accommodate the latest in digital sensors and work with any standard anterior, posterior or bitewing ring in addition to ShaRing™. The rods autoclave all in one bag with your holders.
Item # 001-701
Includes two "H2" and two "G" Ring & Rods
HandiBar™, the single adapter, ring and rod system from ClikTech, LLC, allows the use of any biteblocks to create a sensor holder unique to your own style of digital radiography. This system is composed of the "H2" adapter shown in blue, and the "G" ring and rod shown in white. The short end is for bitewing biteblocks, the long end for both anterior and posterior biteblocks. A single ring "G" rotates upper, middle or lower for use with any view on either side. Biteblocks sold separately.
Item # 008-247
Includes "H1" or "H2" holder
The ClikRay™ "H″ holder allows unlimited versatility for the dental office staff, saving both time and money. One product can be used for both digital and film. The practitioner can now create their own instrument to best serve their needs with the "H" holders.
Both the "H1" & "H2″ are fully autoclaveable, and have a twin head handle for use with ANY x-ray film or digital sensor bite-blocks. The "H1 " & "H2″ may also be used with the ClikGuide™ "G" ring and rod or ClikGuide™ "R" adapter with a standard RINN™ type bitewing ring and rod for any position
H1 – for Anterior and Posterior Bite blocks Item # 001-190
H2 – for Anterior, Posterior and Bitewing Bite blocks Item # 001-183
To see which products fit your particular sensor, please visit our "Products By Sensor" Page.